Ruger 22/45 Tactical Solutions Pac Lite barrel


upgrade Compensators

At this time, we only have one compensator designed to fit Tactical Solutions Pac Lite barrel upgrade. There are future plans to increase the number of comps for the Pac Lite barrel if the demand increases. These comps are turned down to exact dimensions of 1.00"OD to fit flush on the Pac Lite upgrade. Made from light weight 6061 aluminum and DuraCoated in Matte Black for a tough finish to give the comp a perfect match to your barrel upgrade. Even though only one is offered here, that does not mean a custom comp can't be designed just for you using port design, length or crown design from the Ruger 22/45 or 10/22 compensators. Just Contact US with your ideas and you will receive a quote.

---
*ALL COMPENSATORS LISTED ON THIS PAGE ARE MADE AS ORDERS ARE RECEIVED. THESE ARE NOT STOCK ITEMS*
ORDERS SHIPPED WITHIN 1 WEEK
Ships to U.S. ONLY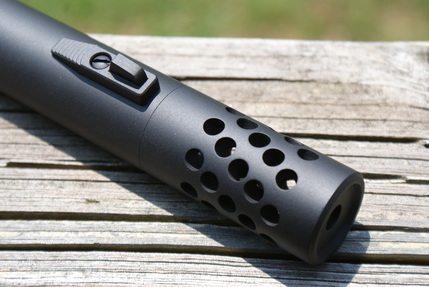 Made from 6061-T6 aluminum. 1"OD threaded at 1/2-28TPI. Spiraled port design (40 port count). Recessed 90 degree flat crown.
Length-2"
All 22/45 LITE comps offered
here
will fit the PacLite
$42.95
---
USE CONTACT FORM BELOW FOR CUSTOM COMPENSATOR ORDER
Can't find what you want and would like to have a custom built compensator for your Ruger 22/45 Tactical Solutions barrel upgrade? Please fill out the contact form below with all your custom specifications. Include length of compensator, crown design, number and size of ports and color (black or silver). Once we receive your specs, you will be contacted via email that will include the price quote. You are not under any obligation to purchase once you receive quote. Quote will stand for 14 days.
You can also use this form to ask any questions.