---
Savage Mark II Series Compensators

MaddMacs Savage Mark II Series compensators are designed and built for the Savage FV-SR and TRR-SR line of rifles. Threaded at 1/2-28, each comp is turned to exact dimensions of .800"OD to mount flush on your barrel giving it a seamless fit. These FV-SR compensators can be made from a variety of material ranging from 303 Stainless Steel to 6061-T6 aluminum. Finishes can be brush polished for a low luster shine (stainless) or DuraCoated in a flat Black Oxide for a more durable finish. More designs will be coming soon. If you would like to design your own custom compensator, don't be afraid to request a quote! Just Contact Us. And NO!, our custom comps will not cost you hundreds of dollars. All quoted prices are based on material, length, and number of ports. Your custom comp could be the next FV-SR comp listed on this page.



Ships to the US Only
---
Click on picture or title to view and purchase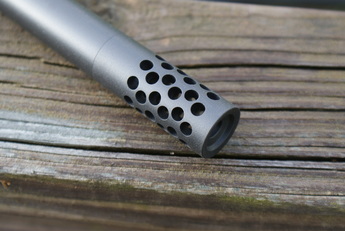 .800"OD Black Oxide. "ZigZag" port design. Deep recessed 11 degree
target crown. Also available in stainless steel.
Length-2"
$47.95
---
---
.800" OD Black Oxide. Straight port design with fluted base for easy
removal. Recessed 90 degree crown. Also available in stainless steel
Length-2"
$52.95
---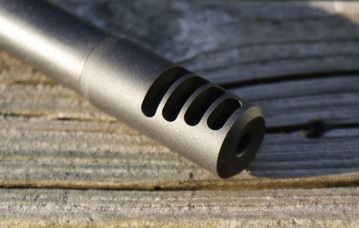 .875" OD w/taper Black Oxide. Top port design with indexable insert.
11 degree target crown. Also available in stainless steel
Length-2"
$64.95
---
---
USE CONTACT FORM BELOW FOR CUSTOM COMPENSATOR ORDER
Can't find what you want and would like to have a custom built compensator for your Savage FV-SR or TRR-SR? Please fill out the contact form below with all your custom specifications. Include length of compensator, crown design, number and size of ports and material/color (aluminum or stainless, black or silver). Once we receive your specs, you will be contacted via email that will include the price quote. You are not under any obligation to purchase once you receive quote. Quote will stand for 14 days.

You can also use this form to ask any questions about the Savage FVSR comps.

Be sure to check your spam or junk mail folder! I will answer you as soon as possible.


© 2016 MaddMacs Precision Tactical, LLC